Omega-3 Panning Out in Early Psychosis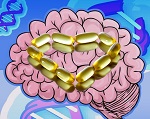 For years I've been doing genetic testing and counseling patients whenever risk factors show up for psychosis. Now, one of the treatments I've been using, Omega-3, is starting to prove itself as a real treatment option.Five years ago, scientists in Vienna started studying the benefit of Omega-3 in patients who were showing the early warning signs for psychosis. Their original results were promising; but to know if the treatment really worked, they would have to observe the patients over time.
Now, five years later, they have published the 6-year outcome data of their treatment protocol in the journal, Nature. The results were very impressive: only 4 out 41 (9.8%) of the Omega-3 group progressed to psychosis while 16 out  out of 41 (40%) in the placebo group progressed to psychosis. Additionally, almost twice as many patients in the placebo group ended up taking some sort of medication. Finally, the Omega-3 group had a better quality of life at 6 years. If you're interested in reading the article but are a bit intimidated by all the stats, I recommend you just jump to the Discussion which summarizes the whole paper.
I'm a big fan of the Recovery Movement in schizophrenia, and the results of this study are making me more optimistic that my patients will have better outcomes in the future.